AWARD WINNING BRAND & FORMULATION
Vegan Cruelty Free Multi-Functional Skincare That is Naturally Retinoic
A skincare line that is naturally rich in Vitamin A, C, E, K, minerals, fruit exfoliants and moisturizing Omega. Nothing synthetic and highly effective for the most sensitive & stubborn skin types.
Not Found in Our Products
Aluminum Chlorohydrate, BHA (Butylated Hydroxyanisole) and BHT (Butylated Hydroxytoluene), Butoxyethanol, Chemical UV Blocks, Coal Tar1, 4-dioxane, Ethylenediaminetetraacetic (EDTA), Ethanolamines, Formaldehyde, Hydroquinone, Mercury and mercury compounds, Methyl cellosolve, Methylisothiazolinone and Methylchloroisothiazolinone, Mineral Oil, Nanoparticles, Parabens, Phthalates, Polyethylene glycol (PEG compounds), Propanol, Resorcinol, Sodium Lauryl Sulfate and Sodium Laureth Sulfate, Synthetic Fragrance, Toluene, or Triclosan
Aloe, Jojoba & Plant-Water Based Formulations
Great for sensitive skin and an excellent carrier for actives - providing deep cellular hydration and plant lipids to support a healthy skin barrier that most resembles our own skin sebum.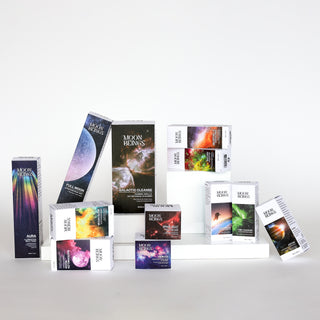 Moon Beings Skincare
Where Skin & Space Meet Beautifully
Let Space Inspire Your Beauty On Earth
"It tingles and doesn't strip my face. It also clears the blackheads on my nose and made those pores noticeably smaller!!! This stuff is AMAZING!! I have dry skin that presents as really oily and acne-prone."
– Kimberly J. Verified Buyer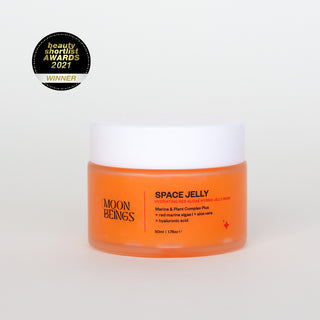 "I use Time Traveler daily and absolutely love it! For a few years, I didn't take great care of my skin. Now that I'm in my 40's - I am so grateful for this amazing serum. My skin feels super soft and plump. I am hooked. Time Traveler is definitely a skincare staple for me!."
– Mandi Verified Buyer